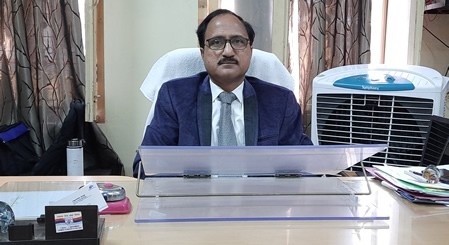 We are proud to be a third cycle accredited institution by the National Assessment and Accreditation Council (NAAC). On behalf of the College family, I am highly pleased to welcome all the stake holders of the College. I cordially welcome the students especially. The number of students in the College has continuously increased during the last few years. It is but natural that the manifold increase in the number of students has created pressure on slowly expanding infrastructure and almost stagnant faculty strength. The student-teacher ratio has increased substantially. Due to expansion of school education, the number of admission seekers has been increasing but the College has been unable accommodate all because we do not have adequate resources. We advised the admission seekers to consider the idea of appearing at the annual examination as private candidate or getting enrolled in Convergence Scheme of Open & Distance Learning and Conventional System. This scheme has been started from this year by IGNOU & DEC jointly.During the past years, the College has submitted proposals to the University for starting classes in MA History & BBA. The College has started a new career oriented course namely- Diploma in Computerized Accounting. A government recognised computer course by the name Shikhar Project is being run in the College through Aptech. Proctorial Board, Students union, NCC, rovers and rangers and sports loving students specially contribute in maintaining discipline in the College. In addition, College alumni & senior students continuously make efforts for the progress of the College. Therefore, we hope that all the stake holders will make hard, sincere and continuous effort for the development and improvement of the College.
The College has been catering to the needs of students of both the Kumaon and Garhwal hills of the State. Along with the regular courses of Arts, Science and Commerce, One PG Diploma and five Diploma courses are being run. Therefore, students, employees and teachers will have to become duty bound and punctual to maintain the good tradition of learning and teaching of the College.

I am confident that we will be more active, thoughtful, studious and successful in this session.
Prof. M.C.Pande
Principal